As the US Government shutdown enters its fifth week, federal employees and the businesses that support them are feeling the pinch. While it is somewhat easy for the average American to see the effects of the impasse on the Transportation Security Administration or the US Coast Guard, there is an entire range of services from food safety inspection to scientific research that are just as important but less obvious. The same is true of security and counterintelligence programs that play a critical, yet largely unseen role in keeping America great.
US security and counterintelligence programs are designed with the principal aim of maintaining American advantage — and therefore our power — against foreign adversaries. These programs, and the legions of professionals that implement them, protect our sensitive sources and methods for gathering intelligence, our plans for responding to contingencies, and our valuable people and resources overseas. We simply cannot allow these things to be neutralized, countered, or lost; a job that is made increasingly difficult by the ongoing government shutdown. As one colleague, a former CIA case officer suggests, the intensifying financial hardships of US government workers present a growing opportunity for criminal organizations and foreign intelligence services. If you have an axe to grind, they will be happy to help.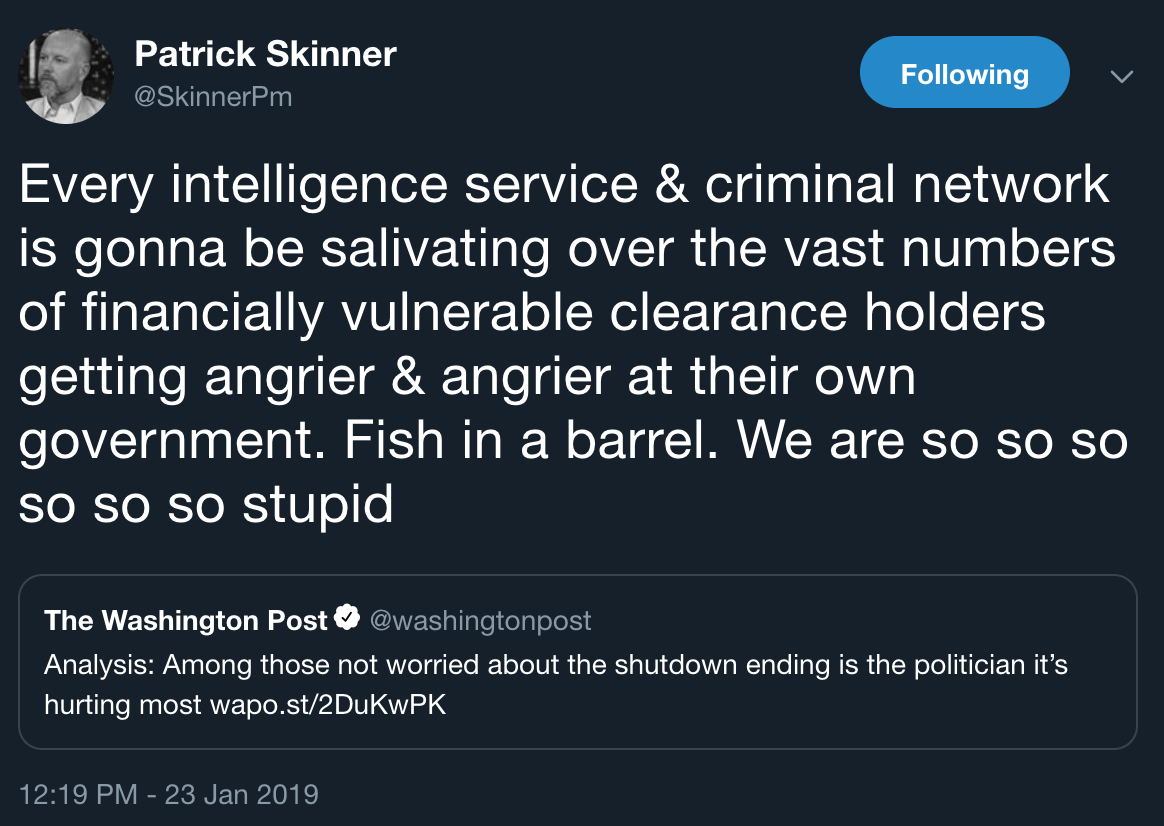 Security & Counterintelligence
Though security and counterintelligence are related, they are not the same. Security refers to efforts to protect information, people, and resources from loss or exploitation. Security covers a broad spectrum of activities ranging from establishing standards for computer passwords to running armed convoys in high threat areas. Security of personnel at diplomatic and military facilities overseas is almost always a cooperative effort with the host nation government and, by extension, the community at large. With contracts frozen and a large percentage of US Embassy staff working without pay, it is only a matter of time before the Embassy relationship with partner governments and their citizens begins to sour as we fail to pay our bills. There will be incidents that result in security problems for our people as the shutdown drags on and there is no government budget that will cover expenses for individual staff members.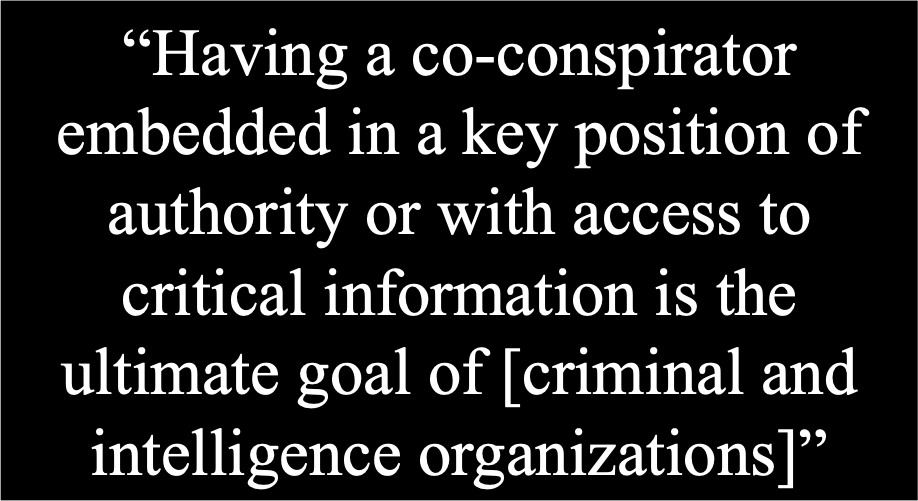 The much larger and more damaging fallout from the ongoing shutdown comes from intelligence threats. Unlike security, which attempts to prevent loss from within, counterintelligence programs prevent threat actors from coming in and taking what they want. Criminal organizations and hostile intelligence services both seek sensitive information from inside the US government and if possible, agents they can count on to reliably provide information and access when required. Not surprisingly, they both depend on the same human factors that assist in targeting and recruiting Americans to work for them. Among the most common of those factors are financial vulnerabilities: debt and greed. Where the shutdown makes our counterintelligence efforts more difficult is that it is rapidly and massively increasing the number of US government workers that are in financial trouble and frustrated with the Washington power play that caused it.
The Operations Cycle
Intelligence services and criminal organizations are continuously spotting and assessing those they believe have access and placement to the things they want as well as a vulnerability they can exploit. Traditionally American officials are particularly challenging to recruit because they are vetted for a whole range of vulnerabilities through the security clearance process. Though this falls into the realm of security, it is basically an assessment of one's susceptibility to recruitment. The relatively good pay and benefits afforded to US government employees protected us by ensuring their needs were met and that few would be willing to take the risks inherent with spying against their country. In other words, decent government salaries are a security measure. Needless to say, spotting and assessing vulnerable recruitment targets is becoming a whole lot easier for our adversaries. Since financial difficulties are one of the easiest things for an intelligence service to manipulate, recruiting those targets is also becoming easier.
The recruitment phase usually begins with something mundane that escalates as the subject becomes entangled, knowingly or otherwise, with the adversary. Imagine being a furloughed foreign service officer struggling to pay your bills. You're having coffee with a local colleague and sharing your distress with the situation. He tells you he has a friend that works at a well-known think tank that would pay $300 — an intentionally small sum — for an article written by a native English speaker with some professional credibility. It could help pay the bills, does not have to be about anything you work on for the Embassy, and does not even have to be attributed to you. You decline the offer initially but the think tank checks out, is not associated with a government, and produces good quality work. You wouldn't say anything controversial, certainly not about something important to the United States, and no one will know you wrote the piece anyway. You accept, and though everything goes well, you have unknowingly stepped onto a very slippery slope.
A few days later your friend congratulates you on the popularity of the piece. He tells you his colleague would like to thank you in person. You feel honored and write another piece or two in the meantime. When you finally meet your benefactor he tells you he would like to contact the Embassy's Consular section to vouch for an employee seeking a US Visa. He doesn't know who exactly to talk to, so he asks for a phone list. Without thinking too much about such a benign request you provide the list. Besides, you want to keep this gentleman happy since he's paying your bills…
Grinding the Shutdown Axe
One can see where the rest of this tale leads. The subject in the story took money from what may have been a foreign intelligence officer; provided official, though unclassified government documents; and attempted to conceal all of the above. He or she is now ripe for exploitation. Though blackmail and coercion are the least effective methods of recruiting a source, the disillusionment that may come from being left without a paycheck can be a more reliable and productive basis for recruitment. There is nothing better than an agent with a grievance against his own government.
Financial vulnerabilities among staff are a significant counterintelligence and security problem and they are exploding under the shutdown. Some 800,000 federal employees in nine cabinet agencies are furloughed or operating in "exempted" status, meaning they are working without pay. The number of federal contractors affected — some of whom serve in critical national security positions — is estimated to be 1.2 million, most of whom do not expect to receive back pay. Some of those working for Immigration and Customs Enforcement, for example, are aware of the irony of being furloughed due to a power struggle that started over immigration.
The same is true of the Federal Bureau of Investigation which has the unenviable responsibility of protecting the country from intelligence threats under these circumstances. One thing is certain, the longer this shutdown continues, intelligence and security breaches will become more common and will take longer to discover and neutralize. As federal employees burn through their savings, more and more will decide their axes require grinding. How many ultimately make that choice is something we may never know.
---
Lino Miani is a retired US Army Special Forces officer, author of The Sulu Arms Market, and CEO of Navisio Global LLC. He provided expertise in special and intelligence operations to NATO from 2013-2016 and occasionally writes about intelligence operations like the assassination of Kim Jong Nam.