The horrific bombings in Brussels on 22 March – and the attacks in Paris and Ankara that preceded them – make it very clear the security situation in Europe will remain unpredictable and fragile for some time to come. In responding to these threats, some nations have enacted measures to restrict the transportation of goods and people. Many more nations will do the same.
While terrorism will undoubtedly cost the global community many lives, barriers to free movement will also present severe economic consequences in billions of dollars in lost trade and development opportunities. In this way, the battle against terrorism is not just defined by suicide bombs and drone strikes, but also by the need to manage the flow of people and goods, and maintain economic growth.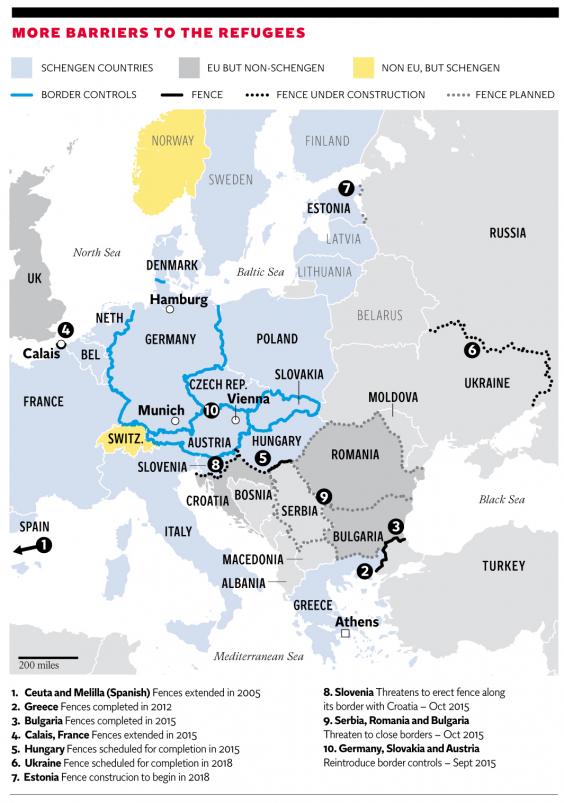 The current situation demands politicians pursue the resolution of the conflict in a humanitarian and civilized manner. Threats must be addressed and neutralized, locally and regionally, in Europe and at the source. While there are short-term measures to be taken, we will, however, be at war for some time to come. The challenge will be to reconcile the security of borders with the need to minimize damage to economic growth for the duration of the conflict and enhance the resilience of the European trade system against disruption in the future.
Setting the Stage for Conflict
Uncontrolled immigration is a challenge for the European Union (EU).  Latest indications are that the million or so refugees and immigrants that have come to the continent in the past year have included terrorists as well as economic migrants. Though there is a clear need to differentiate between those that need help from those arriving with ulterior motives, the EU's failure to act in unison leaves member nations no choice but to take unilateral measures to secure their populations. These measures take the form of border controls which will remain in place until the security improves, the stream of migrants abates and the EU adopts a clear immigration and asylum policy. Such a policy would allow an immigrant or refugee, legally allowed into one country, to legally travel to another EU country for pleasure or work.
Until then, trade will suffer. Cross-border commuters and trucks loaded with goods are already spending hours and days at crossings, costing millions of Euros every week.  With freedom of movement of both people and goods –  two of the four foundational freedoms of the EU – threatened, the EU must find methods to keep the borders controlled while letting bona fide European citizens and trade to flow unhindered. This is no small task and will require clear policies as well as some on-the-ground technical solutions.
Looking for Answers
Critical to the security of free trade is the construction of transportation corridors where pre-screened vehicles conducting cross-border travel have separate, dedicated lanes at the border for secure and unhindered continuous movement. These transportation corridors will enable Europe to create stable networks that protect its core industrial base and trade corridors. Such corridors could be created by the centralized management of transportation information regarding the goods being moved and the personnel transporting them.  Using existing technology, manufacturers, traders, and transportation companies could register their trucks with a central organization which would check the vehicle's license plate against an encrypted registry. Today, police in some countries already scan license plates to search for known criminals; when a 'hit' occurs, the suspect is apprehended or followed.
With this registry in place, "accepted" vehicles then enter a virtual or physically secure pathway where their movement is monitored by GPS and national authorities can feel confident allowing them to pass unhindered across borders. In many places in Europe, limited access toll-roads already exist. Investment would be required on the part of nations to monitor flows in key corridors with cameras. Many transportation firms already follow their trucks with GPS systems, allowing for tracking of movements outside the supervised, segregated corridors.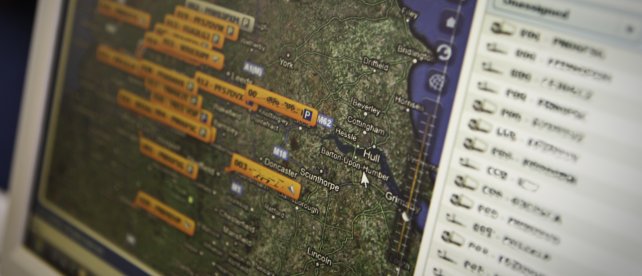 All this information is already readily available. Transportation firms already have an abundance of additional data available such as the waybill, driver identity and other relevant documentation which can be biometrically linked to the driver, then stored and shared system-wide. The collection and integration of this information with automated camera systems that can match specific trucks against a planned itinerary in a secure pathway will allow national governments to supervise cross-border traffic with little hindrance, be alerted to unscheduled detours and other anomalies en route.
The Way Forward for Secure Transportation
None of these ideas are revolutionary; a model already exists for successful integration of this type of transportation data.  In the aviation sector, nations control registered movements within their borders and hand over verified movement to the next country as aircraft depart their airspace. Airline passengers that frequently cross borders can undergo a one-time intense background check and vetting process. These individual passengers, properly identified and documented, are then able to cross borders at airports based on biometric characteristics.
Clearly, this is a complex big-data exercise with some significant cost. Yet, if it can be done for aircraft, there is nothing preventing its implementation for ground-based freight and passenger traffic except the political willpower to execute.  It is time to extend this system-based approach to road-based border checkpoints. This transportation gap in the security matrix cannot be neglected any further.
Trade and free movement of goods and workers are critical interests for the security of all nations in Europe.  Currently, implementation of the appropriate measures to protect these interests are being lost in debates as politicians ride a wave of arguments tending towards protectionism and exclusion of immigrants. The authority to regulate interstate commerce resides with the governments of the European Union. For that reason, it is imperative that in the mire of political discourse, the need to build the critical infrastructure with the appropriate and available technology to restore trade and commerce receive ample attention and a unified response. Only by including transportation security in a complete threat analysis can we do justice to the complex task of intelligently and resiliently securing commerce and economies against terrorism.
Rein Westra is a former CEO in the public transit sector, and currently engaged in the development of web-enabled logistics IT services.  He is CEO of the The Hague Policy Group, an advisory firm focused on public policy  and strategy in trade and transportation, with particular concern for economic development and security.