On 23 June 2016, the voters of the United Kingdom will decide the fate of their country's relationship with the European Union. "Brexit" — a blend of "British" and "exit" mirrors Greece's aborted "Grexit", and is a term fraught with volatility and prone to demagoguery and abuse in public discourse.
One major issue is the net effect of European Union (EU) membership on the security situation in the United Kingdom. The question is not whether Britain is better off with or without the EU, but whether its security situation will change in any meaningful way. Despite conventional wisdom, Brexit will probably not have a significant impact on Britain's national security at all, for better or worse.
Realistic Brexit Fears?
A host of personalities, politicians, and experts of all stripes have commented about Brexit's consequences, both for the UK and the EU. Sir Richard Dearlove, former Director General of MI6, believes the impact would be minimal, and that Europe gets more from the UK than the UK receives from Europe. Sir Dearlove bases his position upon the demonstrated utility of the UK's bilateral security relationships worldwide which eliminate dependence on EU institutions. On the other hand, the Director of Europol, Rob Wainwright, a former British law enforcement officer, claims Brexit would make it harder for the UK to protect its citizens from terrorism by adding, rather than removing barriers for cooperation. Unfortunately, declarations on both sides correspond more with domestic political interests and a desire to shape public opinion than with reality, leaving the British population confused about the real pros and cons of EU membership on their security.
Sensing this, Prime Minister David Cameron addressed the United Kingdom's strength and security as a EU member state during a 9 May speech at the British Museum in London. He highlighted four reasons the UK should remain in the EU: to lead from a position of strength in Europe, to maintain a spirit of collaboration with European neighbors, to develop closer security cooperation between member states, and because he believes the EU amplifies Britain's power by allowing it to influence other EU countries. This special position enables the UK to achieve its strategic goals by placing its interests among the top of EU priorities.
Though his points were important, Prime Minister Cameron probably exaggerated the benefits of EU membership in order to make his case. He presented his arguments with sensationalism, repeatedly suggesting Brexit would automatically weaken defenses against terrorist networks such as Daesh (the Islamic State of Iraq and the Levant). He claimed that some useful tools like the European Arrest Warrant, the Schengen Information System, and membership in Europol, would be unavailable should Britain leave. These statements certainly misled some to believe Brexit will prevent extradition from EU countries or prohibit British access to EU information and intelligence despite numerous examples of effective cooperation of this type with non-EU nations.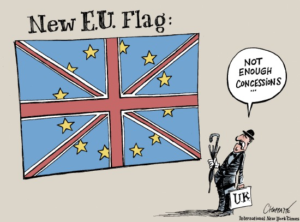 Cooperation Outside the EU
International cooperation in law enforcement and security is based on solid bilateral relations between states. International organizations augment this cooperation with capabilities that may be unavailable to some members. This occurs in both a regional context, via EU agencies like Europol or Frontex, but also globally, with Interpol or various United Nations agencies. These organizations provide mechanisms for diverse cooperation agreements ranging from operational ones that include the exchange of personal data, to technical or strategic agreements with third parties that provide benefits for "full members" of the organization.
These organizations do not limit these benefits just to their member nations. Europol, for example, has cooperation agreements with eighteen non-EU states including the United States of America, Switzerland, and Australia, among others. Most of these important partners have full access to available data of an operational or strategic nature. For example, the US Federal Bureau of Investigation (FBI) is a participant in the Europol Focal Point Travellers agreement, a sensitive program that collects and distributes intelligence from participants in order to facilitate the search for "foreign fighters". Leaving the EU would not affect such programs nor weaken cooperation between British and European security organizations.
The Sky is Not Falling
All UK citizens, including Northern Irish and Commonwealth citizens over eighteen who are resident in the UK, and UK nationals living abroad but who have been on the electoral register in the UK in the past 15 years, will be eligible to vote in the referendum. These voters will determine the destiny of one of the strongest players in international security. Yet, when the referendum is held on 23 June, citizens of the UK should be aware that leaving the EU will not have the impact on their internal security that some of their leaders claim.
Though leaving the EU is arguably not helpful for Britain's continued security against terrorism and organised crime, the UK's strong bilateral relationships on security affairs will not be diminished and would continue to operate effectively. What is important for Britons, is that no matter how they vote later this month, their country's strong relationships with its neighbors and other international organizations is the real source of Britain's security and will continue regardless of the nature of its relationship with the EU.
Victor Perez Sañudo is a Spanish Law Enforcement officer with more than two decades of professional experience in international cooperation working for the UN, NATO, EU and OSCE. Victor has been Project Manager in relevant EU projects for law enforcement agencies, like the European Explosive Ordnance Disposal Network (EEODN) and the EU Bomb Data System (EBDS) among others.