Cover photo: Robert Mugabe puckers up for his wife Grace.  Will Zimbabwe see a dynastic transition of power from husband to wife? Photo credit: http://allafrica.com/
In January Robert Mugabe returned late from his annual Christmas vacation to Asia. A delay in Dubai caused him to miss the arrival of his friend and ally, President Obiang Nguema of Equatorial Guinea at the start of a three-day state visit to Harare. The bizarre refusal of Mr. Mugabe's office to issue an explanation for the regrettable misstep sparked rumors that he may have suffered a massive heart attack. A sudden cardiac event is certainly plausible for someone of Mugabe's age – he will be celebrating his 92nd birthday next week – but even a minor illness raises fears that Zimbabwe may be cast suddenly into what is effectively a struggle for succession.
Mugabe's strong opinion is notably absent on the question of transition, leaving room for factions to form within his party, the Zimbabwe African National Union – Patriotic Front (ZANU-PF). Some speculate that through inaction, Mr. Mugabe may be paving the way to power for his wife Grace, a political novice. Whatever the case, after nearly four decades under Mr. Mugabe's dominant leadership, it is not clear that ZANU-PF is ready to weather the storm effectively.
The Rise of ZANU-PF
Like its South African cousin, the African National Congress (ANC), ZANU-PF, was born as a counter to white-minority rule. Unlike the ANC however, Mugabe's ZANU-PF was the result of a struggle and ultimate reconciliation between two communist-supported factions. Mugabe's five-year political-paramilitary struggle against the white government of Ian Smith in the 1970s followed by a low level conflict with the rival Zimbabwean African People's Union (ZAPU), hardened Mugabe's attitude towards white landowners and allowed him to tightly consolidate his power as leader of the unified party.
The result has been a spectacular story of longevity in power. Mugabe and ZANU-PF have continued to rule Zimbabwe without interruption since winning the country's first post-independence election in 1980. There have been setbacks, including a brief civil war with the remnants of ZAPU and a more recent electoral challenge by Morgan Tsvangirai's Movement for Democratic Change (MDC). Mugabe responds to these challenges with a combination of political accommodation and serial repression of key rivals. The brutal story of Morgan Tsvangirai's unity deal illustrates Mugabe's great skill in employing these tactics effectively without touching off a deeply rooted tribal backlash.
Organized in 1999 as an alternative to Mugabe's ZANU-PF, the MDC rose quickly into a viable opposition party with a strong showing in the 2000 parliamentary elections. The overwhelming win for MDC in Matabeleland hinted at dangerous tribal divisions in Zimbabwean politics as the leadership of ZANU-PF is mostly Shona. Not surprisingly, the government quickly began targeting MDC officers, arresting (and acquitting) Morgan Tsvangirai three times for treason. In the last instance in 2007, he was tortured and his injuries became public after photos were smuggled out of the prison where he was being held.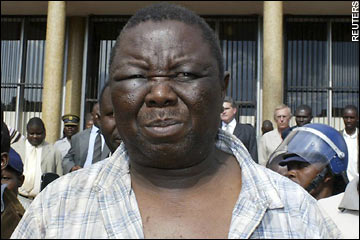 Tsvangirai's travails splintered the MDC into two factions though the Zimbabwean intelligence service, the Central Intelligence Organization (CIO), is widely thought to have engineered the split. Matters came to a head in 2008 when the general election forced a runoff between Mugabe and Tsvangirai whose refusal to participate in the runoff sparked a month of violent tension across the country. Eventually, South Africa's Thabo Mbeki was able to negotiate a power sharing agreement but three weeks after it was signed, Tsvangirai's car was hit head on by a lorry, severely injuring him and killing his wife instantly. That the lorry was an official US Agency for International Development (USAID) vehicle carrying medicines somewhat mitigated conspiracy accusations but it did not stop MDC officials from speculating about the possibility.
Fear of a Post-Mugabe World
After the death of his wife, Tsvangirai never seemed to recover his drive to force Mugabe to share power. Sensing opportunity, the old fighter used the political respite to further consolidate his grip on politics in Zimbabwe. A constitutional change after the 2013 general election abolished the office of the Prime Minister and effectively ended the unity government, once again making Mugabe the sole executive leader in Zimbabwe. Responding to a perceived threat, he purged Vice President Joice Mujuru and her supporters in 2014 by accusing her of plotting to murder him.
Though ZANU-PF is enjoying its political zenith, there is a fearful undercurrent of what will come next and a growing recognition that the question of Mugabe's age cannot be ignored any longer. There are indications that behind closed doors some ZANU-PF officials quietly acknowledge the need for planning though very indirectly. Ongoing factionalism within ZANU-PF has elevated Mugabe's wife Grace to a level of political prominence and she is increasingly seen as an alternative to Vice President Mnangagwa despite her lack of a background in politics. In keeping with the bizarre reluctance of ZANU-PF to openly address the succession, Grace routinely disavows interest in politics while actively campaigning on her own behalf.
Some fear that politics under "President Grace" would be a tumultuous affair with rival factions, opposition parties, and even some civil society groups emboldened to oppose her in ways they would not have dreamt of doing with her husband. Though Mugabe's failure to organize an orderly transition is essentially an internal matter for ZANU-PF, opposition parties like the People's Democratic Party (PDP) are growing bolder in their calls for a National Transitional Authority. This kind of open discussion of a taboo subject by an opposition party would have been unthinkable not too long ago and may be an indication that ZANU-PF is losing its grip.
A Zimbabwean Valentine?
Absent a coherent transition plan from Mugabe and ZANU-PF, the manner of Zimbabwe's succession will be determined in large measure by the circumstances of their leader's death.  An unexpected passing could lead all the players to consider bold moves that would potentially result in social unrest or even organized violence whereas a longer decline would feature intense jockeying for position both within the party and outside it.
Though the pressure will certainly mount as the succession question gathers momentum, it is not clear which players benefit from which scenario. Within ZANU-PF, Mrs. Mugabe and Mr. Mnangagwa seem headed for a clash, with Grace enjoying a protected position as the nation's first lady. However, as the noted scholar, James Hamill points out, her advantages could quickly melt away if she doesn't consolidate her position in the days just prior to or immediately following the death of her husband. A slow decline could make it harder for her to do so leading to the macabre realization that a sudden death of her husband Robert could be seen as a very big Valentine for Grace.
Lino Miani is a retired US Army Special Forces officer, author of The Sulu Arms Market, and CEO of Navisio Global LLC