Malaysia is at a political crossroads. In what appears to be a conflict between the scion of a dynastic political order and the powerful personality of one of the country's founding fathers, Malaysians ponder a frightfully uncertain political future. The setting is an ongoing corruption scandal involving quasi-governmental development firm, 1Malaysia Development Berhad, or 1MDB, that reaches all the way to Prime Minister Najib Tun Razak. In a story alleging appalling arrogance and complexity, Najib is accused of pocketing $700 million USD in funds siphoned away from 1MDB.[1] Son of the country's respected second Prime Minister, and President of the ruling coalition's United Malay National Organization (UMNO), Najib's lineage gives him unique importance as a link between the country's present and its political past. Such shocking accusations against him are particularly wrenching for Malaysia's Malay (Muslim) community but what's less obvious to casual observers is that they may actually threaten political stability in this peaceful Southeast Asian nation.
Malaysia's Real Malay Dilemma
The appalling scandal appears to be the result of a dispute between Najib and Mahathir Mohamad, longtime UMNO strongman and former Prime Minister. Both are important figures, but admiring Malays regard Mahathir with near religious devotion, a source of great political power that he routinely uses. His political whims still shape Malaysian politics and though he's been out of office since 2003, his influence is ever-present. Malaysians largely credit Mahathir's leadership with their country's emergence from colonialism as a modern and wealthy democracy. A conflict between these leaders puts Malaysians in a schizophrenic quandary because at one time, Mahathir was Najib's sponsor.
If Najib survives as Prime Minister, the perception of corruption in the system may sour the disillusioned Malaysian electorate to the point that they finally abandon UMNO and the rest of the ruling coalition, Barisan Nasional (BN).  The last two elections were extremely close for BN and notwithstanding the incarceration of opposition leader Anwar Ibrahim on charges of sodomy (yes, sodomy), his opposition coalition (Pakatan Rakyat) holds together despite its enormous ideological fractures.  Facing abandonment by its Malay constituency, UMNO may be forced to make a deal with the Islamic party, PAS. Like Islamic parties elsewhere, PAS is seen as a less corrupt alternative, though its periodic insistence on implementing Sharia and Hudud laws makes it abhorrent to Malaysia's sizeable Chinese and Indian minorities as well as its more worldly Malay communities.
An UMNO-PAS deal would solidify communal stresses into geographic blocks, something of a security nightmare for Malaysia's leadership which has traditionally depended upon the diversity of its neighborhoods to deny safe-haven to would be insurgents. More Islamization and more power for Malay-majority northern states would push minority Chinese and Indians away from BN in favor of Pakatan. This would position minority communities in Penang and Selengor firmly against rural Malay communities in Johor, Pahang, Terengganu, and Kelantan.  This creates for the first time a very distinct political geographic divide within the country that will very negatively affect its stability.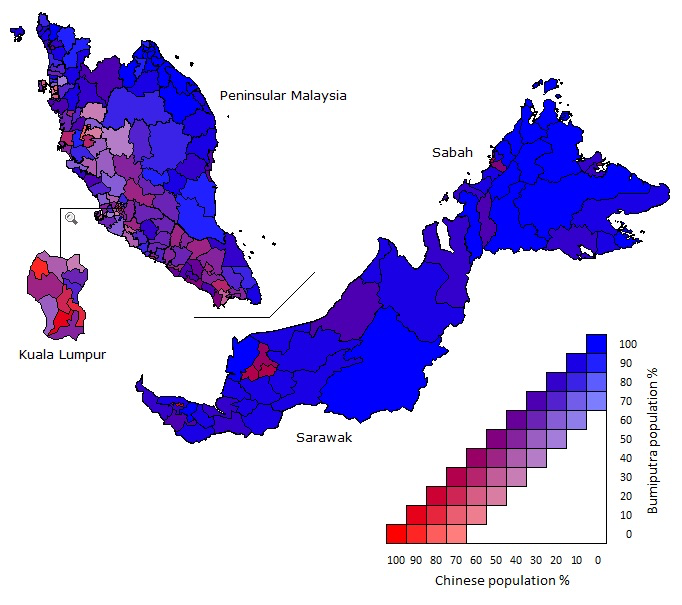 Mahathir Waning
If Mahathir emerges victorious, there will be massive turnover at the pinnacle of UMNO resulting in many second tier leaders rising to the top. The current Deputy Prime Minister, Muhyiddin Yasin will likely take the top job with Hishamuddin Hussein (son of another former Prime Minister) as Muhyiddin's deputy…But this will be a pyrrhic victory for Mahathir.  He's 90 years old and finding it increasingly hard to continue wielding power from his "retirement" villa.  His son and daughter aren't proving to be quite the political pit bulls that he is and perhaps most importantly, Malaysians are tiring of his antics.  As one Malaysian colleague put it, they want to honor his accomplishments, not continue to be ruled by proxy.  Eager to avoid exposing his hand in Najib's impending downfall, Mahathir has allowed Muhyiddin to portray himself as the anti-Najib and build an independent power base. Ultimately, Muhyiddin will finish the job Najib began of freeing Malaysia from Mahathir's influence and though the country will remain ruled by the party of its founding fathers, UMNO will be greatly diminished and without Mahathir for the first time in a generation.
One way or the other, UMNO is facing a survival decision for the first time in its sixty-nine year history: get rid of Najib or sideline Mahathir. It is a decision UMNO is not really prepared to make and while most view this as a conflict between two political stalwarts, it is actually a more significant symptom of real democratic change within Malaysia. Poor management of the transition may destabilize Malaysia itself so let's hope they get it right.
[1] He now claims this was a $700 million election contribution from Saudi Arabia.
Lino Miani is a retired US Army Special Forces officer, author of The Sulu Arms Market, and CEO of Navisio Global LLC.