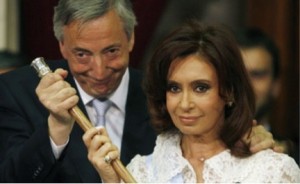 In the midst of presidential election season, life in Argentina today is a bizarre mixture of cries for equality and human rights, contrasted with insidious government propaganda, limits on personal freedom and frustrating consumer choice.

By Jared Wilhelm
In October 2015, the citizens of Argentina will elect a new president. For the past twelve years, the large and resource-rich South American nation was headed by a member of the Kirchner family: first Nestor in 2003 and then his wife, Cristina since 2007. Much in the vein of famous Argentine first lady Eva "Evita" Peron, Cristina is a charismatic, populist figure within in the nation, exerting tight control over monetary policy, the media, and those who oppose her controversial policies.
The election will prove to be important not only for the nation, but also for the world. While Cristina can't run due to term limits, a victory for one of her Kirchnerismo Party candidates might signal a continuation of some of her edicts, like allowing China to build it's first overseas military base in Argentine Patagonia, cozying up to Vladimir Putin's Russia and his houseguest Edward Snowden, and alleged suspicious dealings with Venezuela and Iran.
Uncertain future aside, it is interesting to look past the sensational headlines of corruption and international intrigue to consider the day-to-day life of the average Argentine who lives with the oddities of Kirchnerite rule. Would Argentina's Founding Fathers- who modeled Argentina's Constitution almost exactly after the United States of America's in 1853– recognize the life that Cristina has imposed on the average citizen?
Free Fútbol for Everyone: A Captive Audience
While Argentina is famous for its grass-fed beef, wine and Tango, the key to the average Argentine's heart is soccer, or fútbol. The Argentine league is the third oldest in the world, and no Sunday afternoon family meal is complete without watching one of the local or national clubs on television.
Since 2009, Argentines don't need a satellite dish or a cable subscription to see their favorite local team, international tournaments or even the World Cup.  Instead of tuning in to one of the major local networks, fans turn to the government-run TV Publica. Outbidding traditional media conglomerates with a contract nearly double the size of what private companies previously paid, Cristina uses taxpayer dollars to ensure there will be Football for Everyone broadcast on her own personal station.
Since there are sometimes weekends with no national soccer games, in addition to Fútbol para Todos, there are Boxing for Everyone and Racing for Everyone as well. Anyone used to paying $99.99 for a blockbuster boxing match will be shocked to see the broadcast free for all.
Under the guise of providing equal access across the class spectrum and in an effort to compete with opposition media tycoons, Cristina and her propaganda machine waste no time taking advantage of their captive audience. In place of selling advertising time to the highest bidder, the government uses these precious opportunities to reach the people using spots that tout the government's achievements, or to advertise for the state-owned airline, Aerolineas Argentinas, or the state-owned oil company, YPF. Both of these companies were expropriated from private businesses after takeovers by Spaniards in the 1990s turned sour.
In an almost eerie dichotomy with everyday life, the government's slickly produced propaganda spots show a country where everything works beautifully and everyone is happy. No matter if the commercials are one-sided campaign ads, showcases of nuclear energy projects, satellite launches or simple advertisements for upcoming free sports broadcasts, one clear message is always sent during the final few seconds of each spot: Brought to you by the President.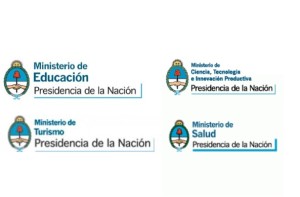 Journalists estimated in January 2015 that during its six-year existence, the Argentine people  bankrolled a staggering $793 million US dollars worth of government propaganda through the program. Compared to a world where the market demand determines availability and private advertising dollars or subscriptions pay for broadcasts, taxpayer-paid government control of the majority of soccer broadcasting is a small price to pay for the Presidenta to spread her message on a daily basis to households across the nation.
Price Controls
Ever since Cristina expropriated the national petroleum company from Spain in 2012, the government controls the price of gas at the pump. Citizens no longer have to worry about the whims of supply and demand, world events or the decisions of the OPEC nations; instead, Cristina's government ministers decide the price of a liter and then negotiate with the rest of the privately-owned companies to cap prices for six months at a time.
Price controls don't stop at the gas pump. In 2014, Cristina launched a nationwide campaign to control prices and combat double-digit inflation on some 470 items in grocery stores, restaurants, airports, and even motorcycle dealerships. Cristina's economic team decided that instead of letting market forces drive the price of certain items in stores, the government would set the price. What does the Price Guarding program mean to the consumer?
When a shopper visits any grocery chain or Wal-Mart Argentina, a large list of every Price-Guarded item is posted at the front of the store. The store shelves look the same, except there are special Price Guard logos on certain brands of the milk, hotdogs, cereals… even beer. A pack of cookies that should cost $2 is only $1.50- a good savings for the generic, tasteless cookies. Unfortunately, these price controls have unintended consequences. If you don't like generic, tasteless cookies and instead prefer made-in-Argentina Oreos- well the Oreos that should cost $2.50 now can cost $4.50 or $5.
While businesses are not forced to comply with this scheme, more than 100 nation-wide chains have agreed to participate to maintain competitive market share. But Cristina and her team do not trust big business, so they encourage every day citizens to verify Price Guard prices are followed. During soccer broadcasts, government propaganda spots encourage shoppers to print out the Price Guard list and check to make sure the prices are set at the government's rate. If not, Cristina has set up a 1-800 number and smartphone-app that allows everyone to report businesses for charging extra. When someone calls to make a citizen's report, the odds are they probably won't be using an iPhone.
A Nation without iPhones
Since 2011, Argentina has not permitted the legal import and sale of Apple iPhones. Thanks to Cristina, only cell phones that are locally made can be sold on the legal market. Cristina and her economic team have decided that in order to spark national growth, imports of all kinds will be limited and the local industries will be protected. The idea is to create jobs: now instead of being assembled in Asia, Samsung phone parts are shipped across the Pacific so that they can be assembled in country by Argentines and then considered a legal product. The same goes for televisions, refrigerators, even cars.
If someone really, really wants an iPhone, there are options.  Besides the healthy trade on the black market, one could order the phone (or any other prohibited foreign item) through a site like the US's Amazon. If the phone costs $300, the buyer is responsible for paying the $300 cost of the phone and shipping to Amazon, and then an additional 50% tax to the Argentine government. A $300 phone will cost around $500 and require a trip to a local customs office for pickup, because Cristina doesn't allow foreign deliveries to be sent directly to your home. Home delivery makes 50% tax collection complicated.
So if the average citizen of the Argentina has decided to save $300 of his or her hard-earned salary to buy an iPhone, unfortunately that citizen can't buy one in a local store. Instead, he or she must save $200 extra to order from overseas, or cross the border to Chile or Uruguay to buy one there. Many weekends, especially holidays, there are six to eight hour lines at international border crossings, allowing citizens to purchase Apple Products, Kitchen-Aid Mixers, X-Boxes or Lego toys for their children. On the way back into Argentina, they of course need to hide these products from customs so they don't have to pay the 50% tax.
While the import substitution policy protects local workers and the economy in theory, in practice it creates a class-based unfairness that even eclipses the most pure free-market capitalist society.  The wealthy, mobile political class can and do afford travel overseas to buy superior products. The average worker has no choice but to buy inferior or obsolete products, based on the rules imposed by the supposedly well-meaning political class. In true Animal Farm style, political leaders artificially determine the market in the name of the "good of the economy," while jet-setting to the United States or Europe to buy the same products they keep from the people.
The Future of Argentina
Supporters of the three consecutive Kirchner administrations trumpet accomplishments on human rights, reparations from the most recent military junta, equality, social justice and Argentine sovereignty. While Cristina and her husband do deserve some credit, it is not enough to outweigh the restrictions imposed on personal freedom of action and thought as illustrated above. Surprisingly enough, there are many more examples that would elicit similar reactions.
 In 1853, Argentina's forefathers based the Argentine Republic's Constitution on the model of the Constitution of the United States of America. By 1914, Argentina had become one of the world's richest nations.   A century later, Argentina was ranked second out of 108 nations in the CATO Institute's 2015 economic "Misery Index," only less miserable than Venezuela and slightly more miserable than Syria, Ukraine and Iran. Ten more pages would be required to even start to explain how a nation- a Republic- based on Constitutional freedoms is embroiled in a "separation of powers crisis" and now looks more like an Orwellian, Big-Brother State. Through a complicated history filled with crises, coups and collapses, Argentina is again in trouble despite its many natural resources and deep cultural diversity.
In addition to continued government meddling, there is also a risk of the pendulum swinging too far in the opposite direction as it has in the past. After twelve years of Kirchnerite rule, international investors are licking their chops, imagining a presidential victory for an opposition candidate that would reopen Argentina to the world market. Some pundits fear a repeat of the 1990s, when neoliberal policies allowed international corporations and investors to take advantage of industry privatizations that did not benefit the everyday Argentine.
Whatever the outcome of the election, an unbiased observer can maintain an cautious optimism for the nation of Argentina that the next executive can prioritize the rights and freedoms of its people above personal ambition, enrichment and control. It may seem trivial to focus on fútbol, price controls and consumer purchasing freedom when the Kirchner administration has been accused of large-scale corruption, repression, and even murder. But the reality for the everyday Argentine citizen speaks more to the state of the republic than the high-level political scandals.   In a nation based on the US model of individual rights and freedoms, the political devolution of all-powerful populist executives has left life in Argentina today far from what her founders envisioned.
Jared Wilhelm is a Naval Aviator who served two deployments in Africa, Central America and Europe as a P-3C Orion Maritime Patrol Pilot. He is currently attending the National University of Cuyo in Argentina. The views expressed are those of the author and do not reflect the official policy or position of the US Navy, the Department of Defense, or the U.S. Government.